9, June 2023
Inter Milan goalkeeper Andre Onana insists the pressure is all on Manchester City before Saturday's Champions League final in Istanbul.
The 27-year-old Cameroonian has been heavily linked to a summer move to the Premier League with Chelsea believed to be at the front of the pack.
Onana has kept eight clean sheets in 12 matches in Europe and believes the heat is on Treble-chasing City.
"We have nothing to lose. They have more pressure than us," he said.
"We have to prepare well – we don't have to stress – we have to go easy because we play against a very tough opponent."
A tough task awaits the side who finished third in Serie A this season, but Inter already have the Coppa Italia to their name after a 2-1 win against Fiorentina in Rome.
There was no clean sheet for Onana that day but among those games in Europe in which he did keep the opposition scoreless were both legs of the Champions League semi-final against their city rivals AC Milan.
A turbulent World Cup for Onana last year saw him sent home from Qatar before he announced his retirement from international football.
But the stopper, who only joined Inter from Ajax last summer, said: "I'm feeling very good. I am so calm and so happy.
"It's a special game for us. The Champions League final may come along only once in life."
'Africa is proud of him'
Onana is the fourth Cameroonian to play for the Nerazzurri after Pierre Wome, Daniel Boumsong and the legendary Samuel Eto'o.
Another Indomitable Lions legend of the past with 113 international caps, Geremi, is backing his fellow countryman to come out on top in the final – much as the 44-year-old defender did himself with Real Madrid in 2000 and 2002.
"For sure I will be supporting Inter Milan," he told BBC Sport Africa.
"We have one of our younger brothers, one of our compatriots playing.
"I know him very well and I think all of Africa is proud of him. This is a big achievement for Cameroon, that's why I wish him all the best as he tries to win that special trophy.
"It's the Champions League final, the highest competition in Europe.
"I have already told him to enjoy, to not have any regrets after the final."
Geremi won two Premier League titles with Chelsea – the team Onana has most strongly been linked with were he to move this summer.
Regardless of whether or not it's Onana's final match for Inter, Geremi wants his compatriot to embrace the moment.
"One of the biggest memories I have is coming out onto the field and hearing that Champions League song because it is such a special and unforgettable moment," he said.
"He needs to give his all, he knows what to do and I wish him well."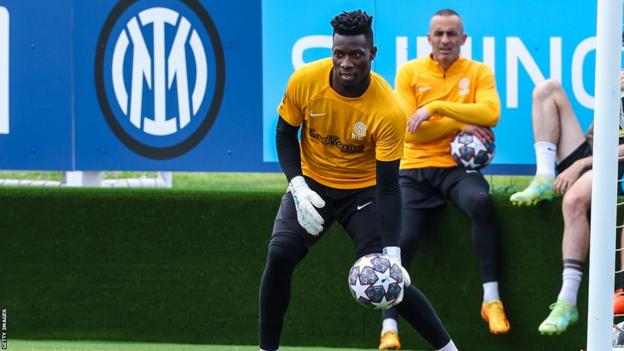 Onana's path to this year's final has not been an easy one along with the international fall-out at the World Cup.
His final season at Ajax was a mixed one following a 12-month doping ban, which was reduced to nine months on appeal.
Following his switch to Italy, Serbia's Samir Handanovic started the season for Inter as the number one choice between the sticks before eventually being displaced by Onani.
Last year had started on a high for Onani though, as he helped hosts Cameroon to a third-placed finish at the 2022 Africa Cup of Nations (Afcon).
The bronze medal was achieved with a penalty shoot-out win against Burkina Faso following their semi-final exit at the hands of defeated finalists Egypt.
Mahrez ready to claim glory for North Africa
In opposition to Onana on Saturday is a player who didn't enjoy such a favourable time at last year's Afcon.
City forward Riyad Mahrez was unable to prevent his Algeria team crashing out at the group stage with three defeats.
The 31-year-old has, however, become the first African to win five Premier League titles as part of City's Treble bid though.
He surpassed former Ivory Coast striker Didier Drogba's count of four titles, all achieved with Chelsea.
Now Mahrez's shot at the Treble – only achieved once before by Manchester United – has captured the imagination of his country and one of the first Fennec stars on the global stage, Rabah Madjer, believes more silverware awaits his compatriot.
"For me, Manchester City is the best team in Europe. This is a team that plays very well with the ball." he said.
"This is a team that has a lot of very good players, with a great coach in [Pep] Guardiola.
"We saw the last match against Real Madrid, and it was a great and well-deserved victory for Manchester City."
Madjer, 64, won the European Cup with Porto in 1987 – overcoming their billing as underdogs to beat an illustrious Bayern Munich side.
The former striker, who netted 28 goals in a 14-year international career, scored the opening goal in a 2-1 win and is warning Mahrez and City not to take Onani and Inter lightly.
"It was an amazing final in Vienna," he recalled.
"It's true that we were really afraid because Bayern were an extraordinary team with the likes of [Andreas] Brehme and [Lothar] Matthaus. It was a team with a lot of experience but we played with lot of rigour.
"We won it and it is a game that will stay engraved in history. It was exceptional."
Culled from the BBC