23, April 2018
As news broke that Arsene Wenger is to leave English club Arsenal at the end of the season, there was an immediate outpouring of affection for the manager from African fans and players alike.
From current Liberia President George Weah at Monaco to Wenger's last signing at Arsenal – Gabon's Pierre-Emerick Aubameyang – the Frenchman has been a strong supporter of African players.
His knack of signing and nurturing some of the continent's biggest names has been a distinguishable feature of his 22 years at the helm.
It therefore comes as no surprise that all 16 African footballers to have played in the colours of Arsenal all made their appearances under Wenger.
The unconditional love affair started in Africa when Wenger was manager of French side Monaco.
He discovered Liberia's George Weah through a friend and signed him from Cameroonian side Tonnerre Yaoundé in 1988, becoming a father figure to the young striker.
Weah went on to become the only player to win the African, European and World footballer of the year titles in one season – in 1995.
The former Monaco, PSG, Milan, Chelsea and Marseille striker, who remains the only African to be voted as the world's top player, has a lot to thank Wenger for.
"Every time I go on the pitch, playing for Arsene Wenger, I wanted him to know the ways I could pay him back. I could break my knee, my face, my hand for him – just to win a game," Weah recalled to football's world body Fifa. 
"He took care of me like his son, I could not believe it. When racism was at its peak, this is a man who showed me love.
"Besides God, I think that without Arsene, there was no way I would have made it in Europe."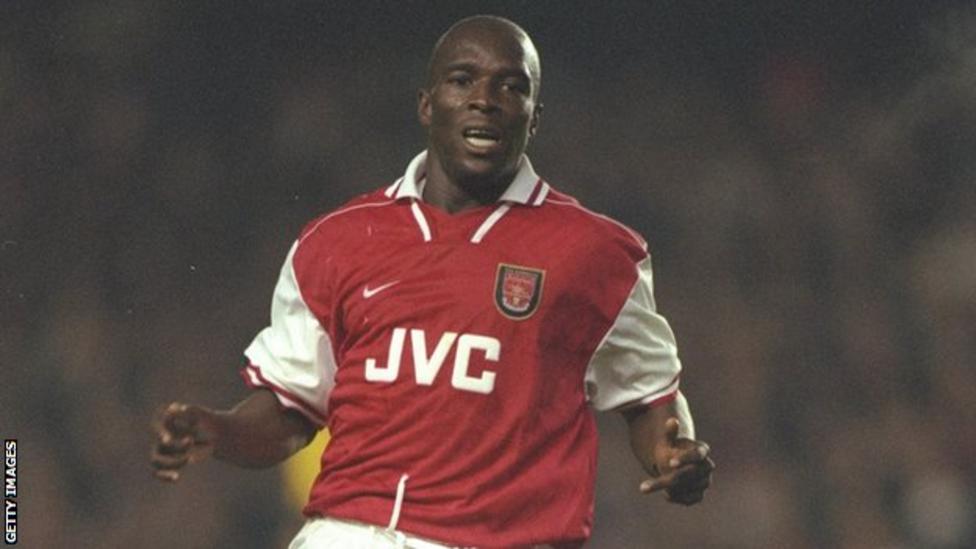 And when Wenger became Arsenal boss in September 1996 following Bruce Rioch's departure, Weah's cousin Christopher Wreh was Wenger's first African signing.
Snapped up from his last French club Monaco in August 1997, Wreh scored three important goals in 28 appearances.
During his time at Highbury, Wreh won the Premier League and FA Cup double in the 1997/98 campaign and also lifted the FA Charity Shield.
African Support
Wreh is one of 16 African footballers to have played for Arsenal in the Premier League since it began in 1992, all making their appearances under the Frenchman.
Those numbers are only half the story. As friends, families and fans rocked up to support the team, the Frenchman's impeccable faith in signing African players further attracted legions of fans on the continent.
Much of the Gunners' popularity in Africa can be put down to the "Invincibles", the record-breaking team of the 2003-04 season which won the league without losing a single match, as part of a 49-game unbeaten run.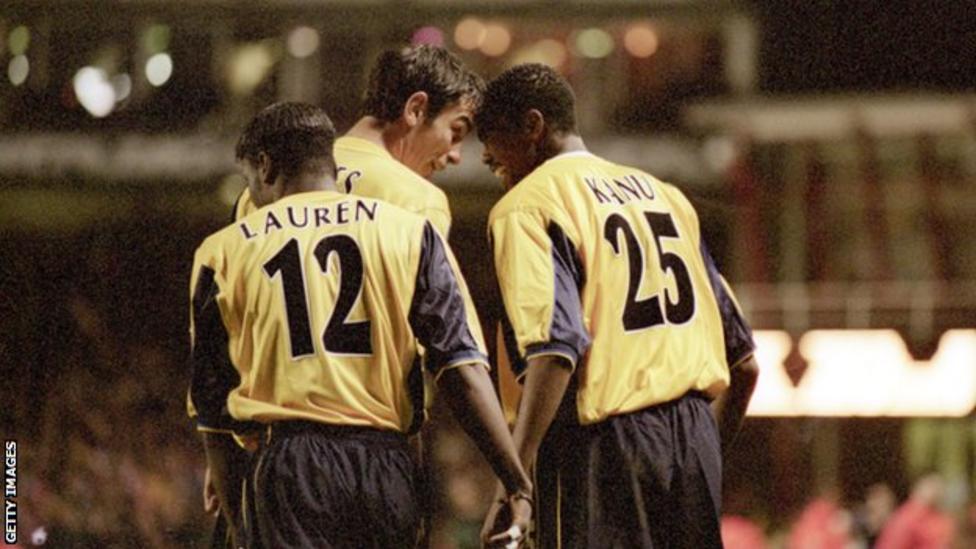 Arsenal's march to that incredible feat would not have been possible without the valuable contributions of three African stars. All three played starring roles at different moments, and none fluffed their lines.
A strong showing of Ivorian Kolo Toure, Cameroon defender Lauren and Nigerian Nwankwo Kanu made them even more popular. Kanu is surely one of the main reasons for Arsenal's popularity in Nigeria as well.
Kanu, who helped Arsenal to two Premier League and FA Cup titles in a five-year stint at Arsenal, paid tribute to Wenger's great service to the club, his career and the continent.
"Big shoes for anyone to fill, playing for Arsenal under Arsene was one of the best period of my career, two Premiership, two FA cups, The invincibles, playing with some of the best assembled players, influencing millions of fans in Africa to support this great club," Kanu wrote on Twitter. 
Wenger's African Army
| | |
| --- | --- |
| Emmanuel Adebayor (Togo) | Alex Iwobi (Nigeria) |
| Pierre-Emerick Aubameyang (Gabon) | Nwankwo Kanu (Nigeria) |
| Marouane Chamakh (Morocco) | Lauren (Cameroon) |
| Kaba Diawara (Guinea) | Quincy (Ghana) |
| Emmanuel Eboue (Ivory Coast) | Alex Song (Cameroon) |
| Mohamed Elneny (Egypt) | Kolo Toure (Ivory Coast) |
| Emmanuel Frimpong (Ghana) | Armand Traore (Senegal) |
| Gervinho (Ivory Coast) | Christopher Wreh (Liberia) |
Lauren played 159 league games for Arsenal between 2000 and 2007 and also picked up two league titles and three FA Cups. He swiftly followed suit by highlighting his legacy.
"An emotional day. Arsene took English football to a different level and pushed me to become the player I never thought I'd be. Let's cherish the memories and his legacy, which will always remain.
"We must thank him for giving his all to make Arsenal such a great club," Lauren tweeted.
Nigerian youngster Alex Iwobi was not even born when Wenger took over the club, but the Super Eagle has risen from the academy to become a first team player under Wenger.
The 20-year-old also took to social media to reflect on Wenger's influence.
"For everything you've done for Arsenal Football Club, for trusting me as a teenager, for giving me the opportunity to express myself and grow both as a footballer and as a person. I will forever be grateful to you boss. Thank You So Much!," he said.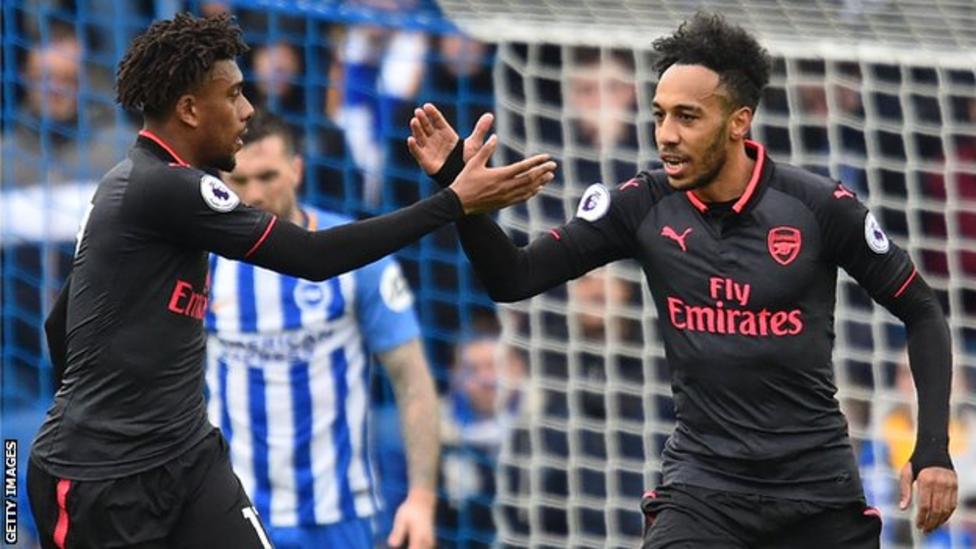 Notably, Wenger often divided opinion on the continent due to the timing of the Africa Cup of Nations – which was traditionally played during January and February.
He stressed in 2004 that the timing was beginning to harm the prospects of African players signing for major European clubs – because teams had reservations about losing players for a month in the middle of the season.
But as other Premier League managers continued to criticise the poor timing of the tournament, Wenger won the hearts of millions around the continent by consistently signing and standing by African players.
Since then, Wenger's desire for the Nations Cup tournament to be held in June has finally been approved.
Gabon's Pierre-Emerick Aubameyang shone brilliantly in France, matured as a top footballer in Germany, but failed to attract other top European clubs. However Wenger brought him to the Premier League by making him his last Arsenal signing in January.
Aubameyang could not have put it more succinctly when he posted on Twitter: "I'm your last signing but since I'm here, I'm proud to be your player Boss thanks for everything."
Culled from the BBC