29, November 2016
The President of Senegal, Macky SALL has commended Cameroon's much-envied status in Africa. The Senegalese leader made the acknowledgement during a visit to Cameroon on Monday 28 November 2016.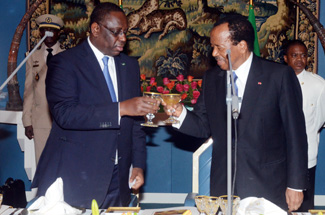 President Macky SALL noted that he came to highlight Cameroon's greatness at the heart of the continent, which has been magnified by its cultural, economic and political stability.
For his part, President Paul BIYA said Yaounde and Dakar will continue to share a sincere and excellent friendship, attached to the promotion of democracy, peace, dialogue, and unity in Africa.
President Macky SALL was welcomed at the Unity Palace by BIYA. Both men held a meeting behind closed doors, which was followed by a special lunch offered by the Presidential Couple. The august guest thanked President Paul BIYA and First Lady Chantal BIYA for the hospitality reserved to him and his delegation.
The Senegalese Head of State was accompanied from and to the Nsimalen International Airport by Prime Minister Philemon YANG.