9, March 2017
The First Lady, Mrs. Chantal BIYA has presided over an orderly and colourful march-past at the 20th May Boulevard – Yaounde, to commemorate the 32nd International Women's Day in Cameroon.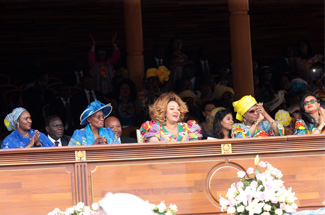 A mammoth crowd of women from several walks of life participated in the event, organised by the Ministry of Women's Empowerment and the Family, MINPROFF. The event was characterised by the passage of a large Cameroonian flag and the effigies of President Paul BIYA and wife, Mrs. Chantal BIYA.
Special messages on banners were also used to clamour for gender equality, women empowerment, and an end to child marriages in Cameroon. Majority of the slogans were directly connected to this year's theme: "Women in the Changing World of Work: Planet 50-50 by 2030".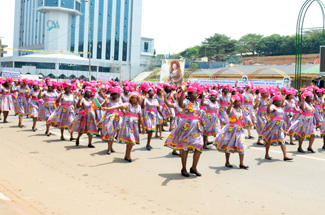 The women who were particularly happy with the presence of the First Lady at the grandstand, equally seized the opportunity to denounce acts of terrorism and other forms of extremism that are aimed at destabilising Cameroon.
Groups from friendly and neighbouring countries such as the USA, France, Gabon, and the Democratic Republic of Congo, participated the march-past.

Culled from the Presidency of the Republic