16, June 2018
After a brilliant opening game by the hosts Russia who thrashed Saudi Arabia by 5 goals to nil, expectations for day 2 of the 2018 FIFA World Cup had been high, especially given the line up of games at hand.
Six time African champions Egypt would be taking on Group A favorites Uruguay and the big question was whether the 'Egyptian Pharaoh' Mohamed Salah would play a role in the game.
In the end, Salah didn't play and Uruguay edged Egypt with an 89th minute winner scored by Jose Gimenez.
"In the history of football we have broken a spell. We either die or we kill, we have to keep progressing," said Uruguay coach Oscar Tabarez at the end of the game.
Egypt's coach Hector Cuper explained that it was too early to risk Salah.
"At the end of the training session we examined him and there was some doubt if he fell or was hit by another player, and we wanted to avoid a risk today," Cuper said. "We want to have him in top form for Russia and Saudi Arabia."
Egypt next play Russia in St Petersburg on Tuesday, giving Salah four more days to work on his fitness while Uruguay take on Saudi Arabia on Wednesday in Rostov.
Moroccan hearts broken by late Iran Goal
Up next were Morocco who were taking on Iran, in the less fancied game of Group B that also has European champions Portugal and 2010 world champions Spain.
Morocco dominated the game for the bigger part of the 90 minutes, but then in stoppage time, disaster struck.
Iran left back Ehsan Hajsafi whipped in a free kick five minutes into added time and Bouhaddouz launched himself at the ball, flashing a header past his own keeper Munir Mohamedi.
The Iranians, who had not won a World Cup game since their victory over the United States in 1998, celebrated as if they had won the tournament, leaving the field only reluctantly after lengthy and emotional embraces.
"Our strategy was from the first minute to create a mental collapse in the Moroccan players. We tried to do that by creating frustration and blocking all their creative players," said Iran's coach Carlos Queiroz, the former assistant to Alex Ferguson at Manchester United and ex-Real Madrid coach.
"My players are down, but we can only blame ourselves," was all Morocco coach Herve Renard could say.
In a group where Spain and Portugal are strong favourites to qualify for the knockout stage, the outcome gives Iran an outside chance of an upset but was a bitter blow for an enterprising Moroccan side.
Ronaldo reigns supreme in 3-3 Portugal vs Spain thriller
The much anticipated match of the day didn't disappoint as five time World Player of the Year, Cristiano Ronaldo scored an early goal from the penalty spot in the 4th minute to give Portugal the lead.
Atletico Madrid striker Diego Costa equalised in the 24th minute, before Ronaldo restored Portugal's lead in the 44th minute, thanks to a goalkeeping blunder from Span's David De Gea.
Costa scored yet another equaliser in the 55th minute, which was quickly followed by a stunner from Nacho to give Spain the lead for the first time.
But it was Ronaldo who had the last word when he scored a spectacular free-kick in the 88th minute to tie the game and score a career 51st hat trick.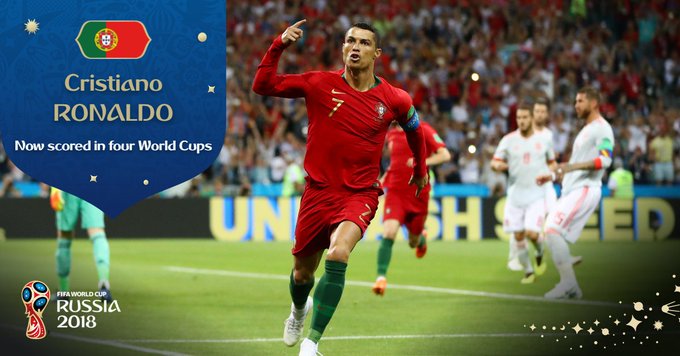 Both teams will be back in action on Wednesday June 20th as Portugal takes on Morocco while Spain will play against the current group leaders Iran.
Argentina, Nigeria in action on Saturday
Day 3 of the 2018 FIFA World Cup will see Ronaldo's nemesis Lionel Messi step up as his team plays against Iceland in the opening game of Group D. Nigeria will play against Croatia in the other game of the group.
There will also be action in Group C as 1998 world champions play against Australia while Peru will play against Denmark.
Source: Africa News