10, November 2016
President Paul BIYA, has received Letters of Credence from Gilles Thibault, Ambassador of France to Cameroon, and Mahamat Ahmat Karambal of the Republic of Chad. The ceremony held at the Unity Palace on Thursday, 10 November 2016.
Ambassador Gilles Thibault's predecessor was Christine Robichon who spent three and a half years in Cameroon. Before his arrival in Cameroon Gilles Thibault was the French Ambassador to Burkina Faso and the West African Economic and Monetary Union.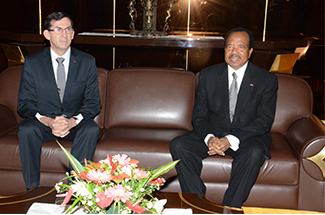 The Head of State and the French diplomat seized the opportunity to make an overview of bilateral ties. A long-standing, dense, and multifaceted cooperation exists between Cameroon and France. This fruitful friendship has touched areas like governance, health, education, infrastructure, rural development, environment, higher education, research and culture.
Economically, Cameroon is the first trade partner of France in Central Africa and the second largest supplier of certain products like cash crops, aluminium, wood, etc.
Both countries have longstanding defence agreements. As the first partner of France, Cameroon plays a special role in the preservation of peace and security in Central Africa. Thus, Paris supports Yaounde with equipment and the training of defence forces engaged in the fight against the Boko Haram terrorist group.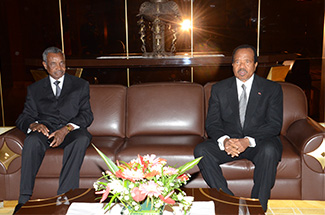 The second diplomat to hand letters of credence to President Paul BIYA was Ahmat Mahamat Karambal of Chad. Prior to his appointment in Cameroon, he was the Governor of the Moyen Chari region of Chad.
Bilateral relations between Cameroon and Chad are ongoing and have been diversified under the visionary leadership of Presidents Paul BIYA and Idriss DEBY ITNO. The Chadian leader paid a condolence visit to Cameroon last month after the Eseka train derailment.
Both countries are actively engaged in the fight against the Boko Haram terrorist group. Economically, studies and the sourcing of funds have been accelerated lately to realise projects like: the bridge over the Logone River between Yagoua (Cameroon) and Bongor (Chad); the extension of the railway from Ngaoundere (Cameroon) to Ndjamena (Chad); and the Ngaoundere-Touboro-Moundou road.
Culled from the Presidency of the Republic