15, November 2017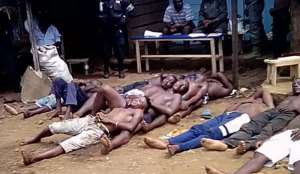 The Anglophone population is yet to come to terms with the recent happening in Munyenge, a village in Muyuka County. An unprecedented crackdown on Sunday November 12 2017 by forces of La Republique du Cameroun (LRC), saw the confiscation of several farm tools from the population, and arrest of some people. The crackdown that led to the dead of two people, and several others displaced to cocoa farms, have now had those arrested declared as terrorists.
Speaking to local media one day after the illusive labelling of the people as terrorist and illegal confiscation of their farm tools, many descending voices have lashed at La Republique du Cameroun (LRC) for using Machiavelli tactics in arbitrarily arresting the people of Southern Cameroons. Many are of the opinion that LRC is using all such means to impoverish the people and then use devilish means of bribing their way.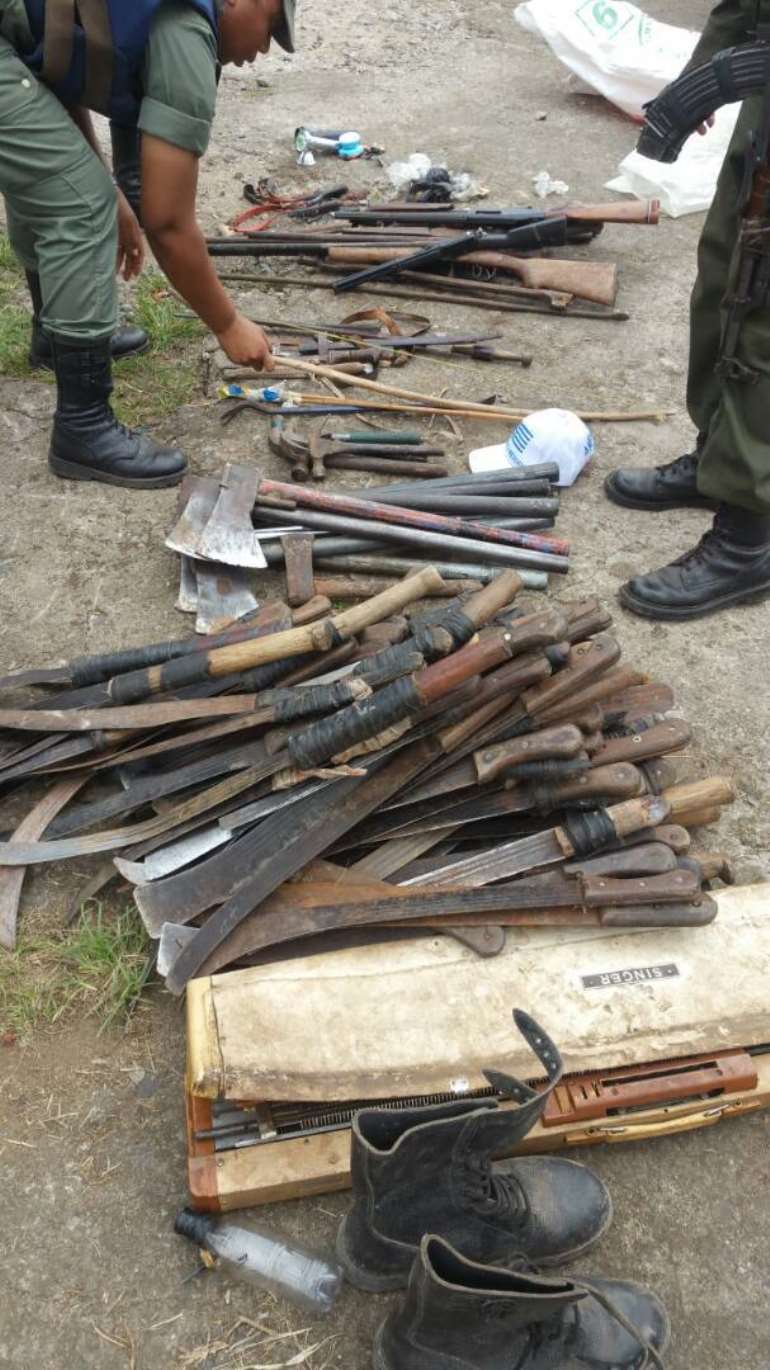 machetes, hoes, cutlasses, knives, etc. seized by LRC forces
"When you take away a farmer's "man-no-rest", seize axes & kitchen knives from families; you are suffocating them. Those present farmers can no longer clear their fields, crack open cocoa pods, split firewood, chop up cassava. And some old people can't now walk without their walking sticks. Kids won't choose their lands at school," lamented Ekongwesse Ronald, an inhabitant of Ekona
Others say LRC is committing genocide in Southern Cameroons, yet the world is not saying anything. They accuse LRC of arbitrary arrests and seizures of their only livelihood tools.
"If this is not synonymous to genocide, then what is it? We all know how village people sacrifice to buy a single cutlass, and which they will use for long years. And for those who can afford a new machete, how free are they to do so without being accused of sour sourcing a war weapon? As for hunters, they might never be authorised to replace their dane guns. So their only source of life and proteins for family is over. And no more 'cha'voooom' for ancestral ceremonies. Dane guns graciously handed down generations gone! Just like that!" Cried out Eko Mosoke Joseph, a culturist in Buea.
Many say the Ministry of Agriculture and Rural Development (MINADER), should be petitioned. According to them, MINADER gave these farmers the tools to till the soil and invest in agriculture.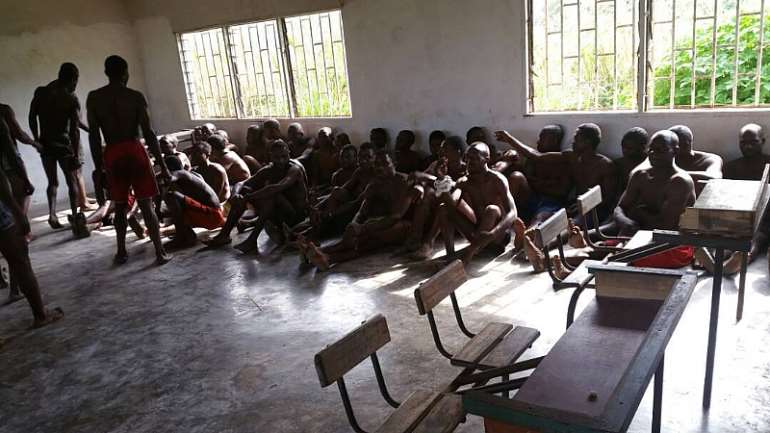 Munyenge youths arrested, brutalised, and labeled as terrorists
"Me sef a tire. If them ask my opinion. I instead think the government should punish the people doing this for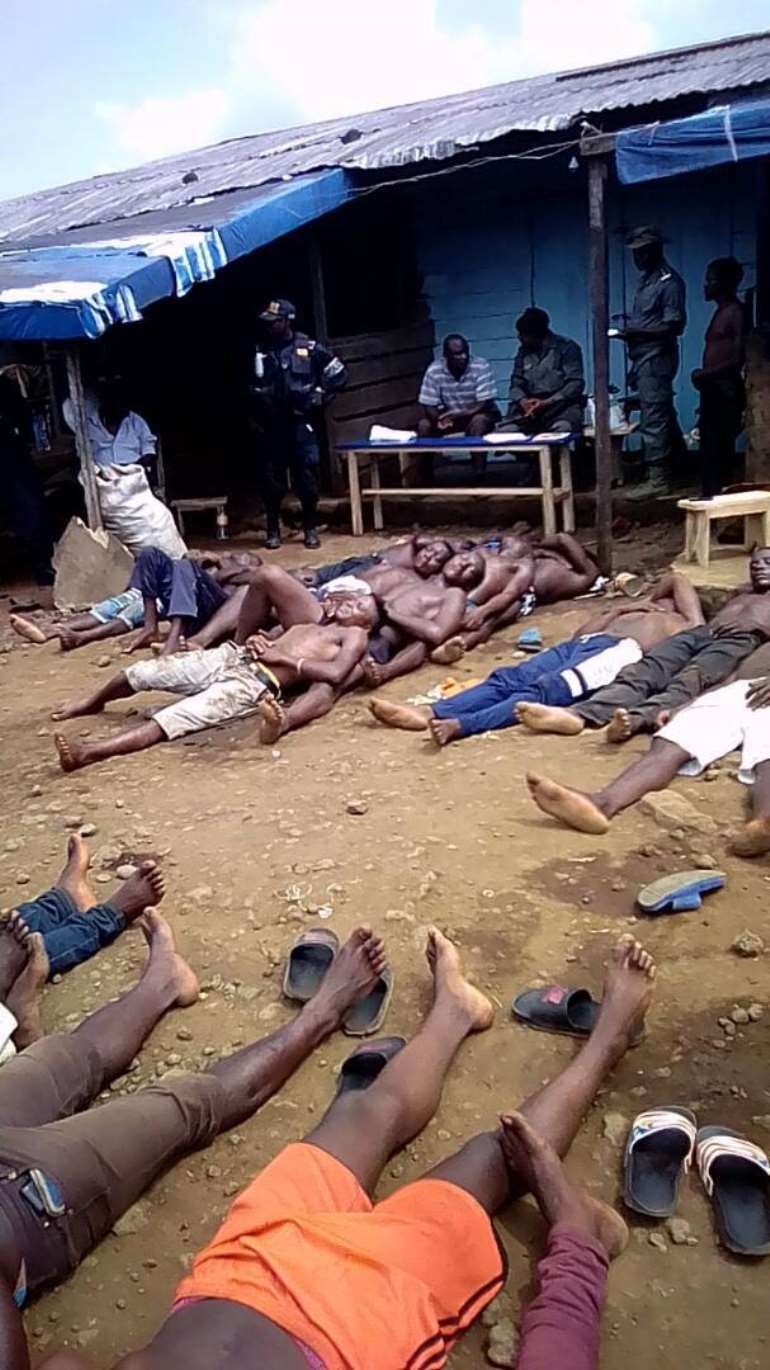 misleading the public. This same farming tools was given to this farmers by the ministry of agriculture. A da cover events wey minister he sef sef hand over such farming tools nor. This thing da begin turn to drama," lamented Pa Loko Smith.
Meantime, a French daily, Le Jour, carried a story this Tuesday indicating the farm tools the colonial forces seized are weapons. That headline has created so much disgruntlement among journalists of English Expression.
"I am shockkkkkkkkkkkked. That cutlasses (man no rest), kitchen knives, dig axes and other farm tools are seized from the homes of peasants in a locality near Muyuka in the south west region, and a leading French language tabloid (Le Jour) describes all those household items as "weapons". This hate language, manipulation and cheap propaganda is indeed uncalled for at this moment. At its best, it can only fuel the already escalating crisis in Anglophone Cameroon," lamented Patrick Mua, a reporter of an English daily, the Guardian Post Newspaper.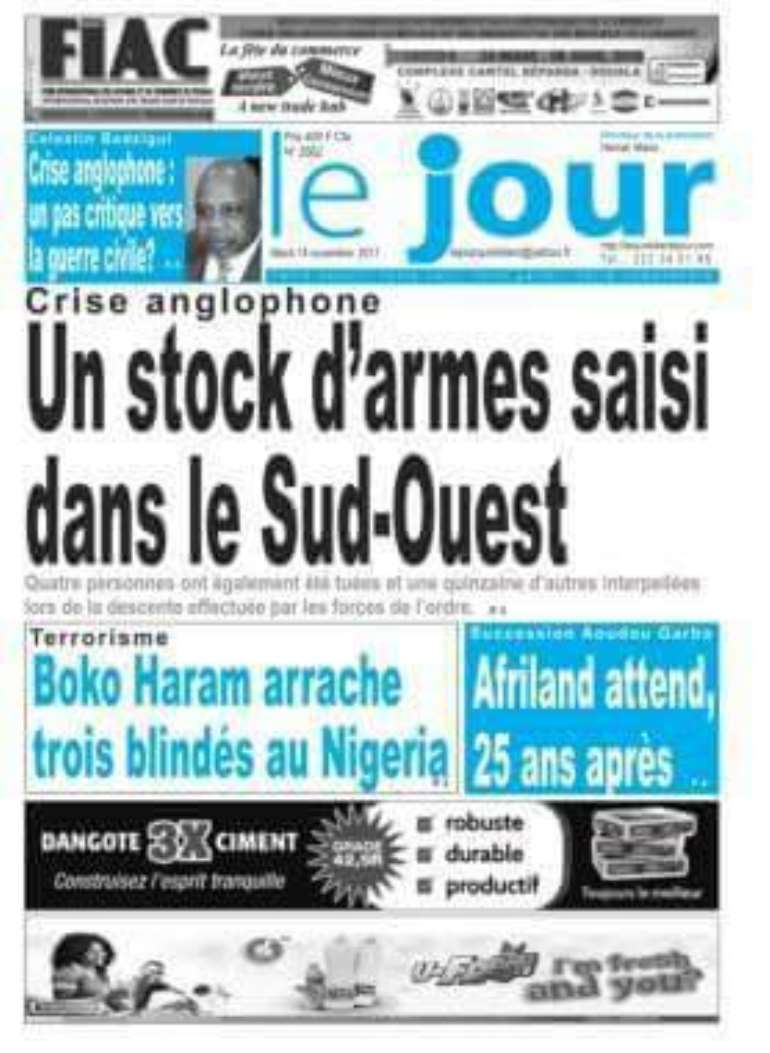 Influence-peddling headline on Le Jour
Another opined that the government is using all means to wipe out Anglophones. They say English newspapers should probe in.
"Our Publishers should write on this. How can they seize the tools of farmers, in a region where 80 % of people are farmers? So after killing Marketing Board and Wada in Wum, these fellows have declared war against rudimentary farmers in SW? The struggle has made this government confused. Instead of looking for a way forward they seize farm tools. A blatant expression of frustration to me. Not just agricultural outputs shall be pulled down, but the rubbishing of technical education in Cameroon. Rivers are flowing backwards!" Rawlings Nvem, another reported cried out.
Others say it is of the government's ploy to use all unorthodox means in killing the people. "This is journalism made simple. For an agrarian population whose farming tools were seized by the military, clearly displayed in pictures to be tagged as stock of war weapons is not just misleading but demurring. Very provocative too. What's government struggle to defend at this point? The wanton killing of its own citizens?" moaned Larry Essong, a Senior Journalist and Publisher.
From every indication, LRC will use all methods in distracting the people from Southern Cameroons from being steadfast in consolidating their statehood. While they continue to kill, brutalise, arrest and commit all sort of atrocities in our land, the people will never give-up. When they go low, we go high.
Source: Modern Ghana