6, August 2019
Barack Obama is calling on Americans to reject "any of our leaders that feeds a climate of fear and hatred" after more than 30 people are killed in mass shootings in the United States.
The former US president made the comment in a lengthy statement issued Monday, without referencing Donald Trump, currently at helm in the White House.
"We should soundly reject language coming out of the mouths of any of our leaders that feeds a climate of fear and hatred and normalizes racist sentiments; leaders who demonize those who don't look like us, or suggest that other people, including immigrants, threaten our way of life, or refer to other people as sub-human, or imply that America belongs to just one certain type of people," Obama said in the statement.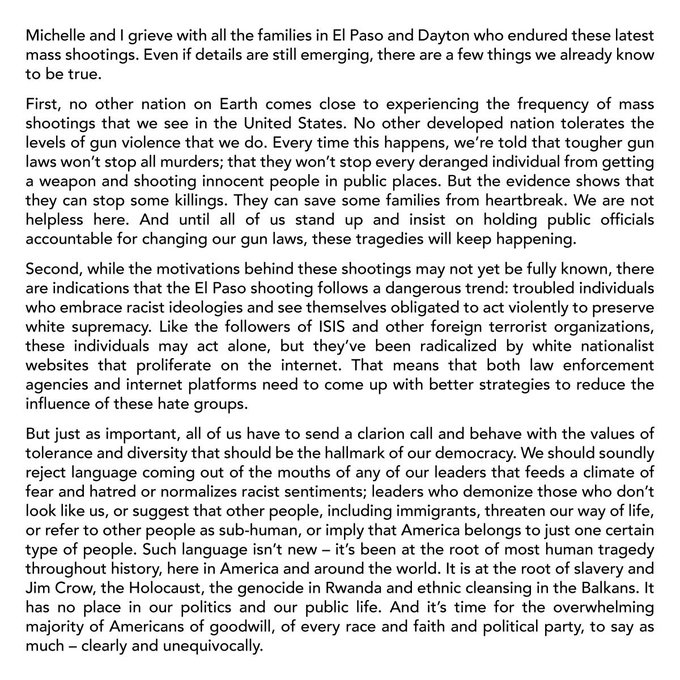 Mass shootings in El Paso, Texas, and Dayton, Ohio, shocked the nation over the weekend, bringing gun control and white nationalism back to the country's political discourse, particularly among Democrats running to beat Trump in 2020.
"It's time for the overwhelming majority of Americans of goodwill, of every race and faith and political party, to say as much – clearly and unequivocally," Obama said, adding that the rhetoric "has no place in our politics and our public life."
Trump was, meanwhile, trying to distance himself from white supremacists, focusing on mental illness instead of stricter gun control.
"In one voice, our nation must condemn bigotry, hatred and white supremacy," Trump said in a nationally televised address from the Diplomatic Room of the White House. "These sinister ideologies must be defeated."
In his 10-minute address to the nation, Trump decried the "mentally ill monsters" behind mass shootings as well as violent video games.
"Mental illness and hatred pulls the trigger — not the gun," the president said, without making any reference to his own call for bipartisan action on legislation providing "strong background checks," just hours earlier.
It took two days for the president to address the suspected gunman's alleged anti-immigrant bias in the El Paso shooting.
Source: Presstv