14, February 2019
A US Air Force intelligence specialist has been charged with espionage for allegedly defecting to Iran and revealing sensitive information to Iranian authorities, the Unites States claims.
Tehran has not made any comments about allegations posited in a Wednesday indictment of Monica Elfriede Witt.
She was "indicted by a federal grand jury in the District of Columbia for conspiracy to deliver and delivering national defense information to representatives of the Iranian government," read the indictment. 
"Monica Witt is charged with revealing to the Iranian regime a highly classified intelligence program and the identity of a US Intelligence Officer, all in violation of the law, her solemn oath to protect and defend our country, and the bounds of human decency," claimed US Assistant Attorney General for National Security John Demers. View image on Twitter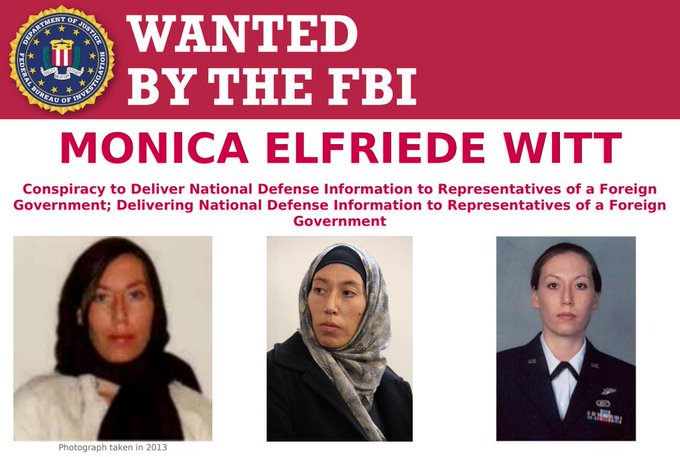 Monica Elfriede Witt is #wanted by the #FBI for her alleged involvement in criminal activities to include espionage & conspiracy to commit espionage. If you have info concerning Witt, contact your local FBI office or the nearest U.S. Embassy or Consulate. http://ow.ly/Frxd50lk1ZV 1,2094:42 PM – Feb 13, 20191,470 people are talking about thisTwitter Ads info and privacy
'Dangers to US intel. professionals'
Four Iranians were also mentioned in the indictment, charged with what was claimed to be "various computer crimes targeting members of the US intelligence community who were Ms. Witt's former colleagues."
"This case underscores the dangers to our intelligence professionals and the lengths our adversaries will go to identify them, expose them, target them, and, in a few rare cases, ultimately turn them against the nation they swore to protect. When our intelligence professionals are targeted or betrayed, the National Security Division will relentlessly pursue justice against the wrong-doers," Demers claimed.
Executive Assistant Director for National Security Jay Tabb also claimed that the discovery of Witt's alleged defection took "years of investigative work."
"The charges unsealed today are the result of years of investigative work by the FBI to uncover Monica Witt's betrayal of the oath she swore to safeguard America's intelligence and defense secrets" Tabb claimed. "This case also highlights the FBI's commitment to disrupting those who engage in malicious cyber activity to undermine our country's national security. The FBI is grateful to the Department of Treasury and the United States Air Force for their continued partnership and assistance in this case."
Ever since President Donald Trump appeared in office, the US has been stepping up its anti-Iran policies and propaganda.
Presstv