17, May 2018
Australia has joined the US, Britain and dozens of other nations in criticising Cameroon's human rights record, as up to a dozen of the West African country's Commonwealth Games athletes have not returned home.
Home Affairs Minister Peter Dutton warned athletes overstaying their Games' visas will be found and deported, although some have reportedly received bridging visas after claiming asylum.
Allegations of torture, arbitrary detention and attacks on civilians by security forces, suppression of freedom of speech and the media, and continued criminalisation of LGBTIQ+ people were raised against Cameroon at the United Nations.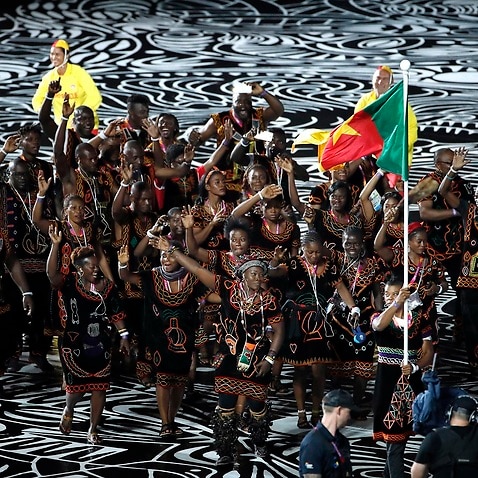 The West African country created from merging French and British colonies is wracked by civil conflict between the Francophone majority and Anglophone minority, as well as incursions by terrorist group Boko Haram.
Over 160,000 people have been displaced by violence in Cameroon since 2016, according to UN estimates.
"Australia notes with concern the recent outbreak of violence between Cameroon security forces and protesting minority groups in the county's southwest and northwest," Australian diplomat Alexander Chapman told the UN's Universal Periodic Review of human rights in Cameroon in Geneva.
"Australia recommends Cameroon lift unnecessary restrictions on freedom of assembly, investigate the alleged use of force in demonstrations, and ensure arrested protestors receive fair trials."
Australia, which this year began its three-year term as a member of the UN Human Rights Council, echoed the United States in its statement to the UN hearing.
"We remain concerned by credible allegations of humans rights violations and abuses by security forces," US diplomat Huda Ibrahim said.
"We recommend to the government the following, one acknowledge and investigate credible allegations of human rights violations and abuses and hold those to account."
Other videos show troops burning villages and severely wounding people.
English-speaking southern Cameroonians have been demanding a separate state of Ambozonia based on colonial borders, claiming they are heavily discriminated against and marginalised by the French-speaking majority.
"There is peace in this region, it is not the entire region or the entire country that's been involved in an uprising saying they want a republic," Cameroon's Foreign Minister Lejeune Mbella Mbella told the UN review.
"It is a community that has taken the entire country hostage and raised awareness of the international community, sometimes wrongly, to what they call repressions in the Anglophone region."
Mr Mbella Mbella told the UN its military had engaged in torture without government authorisation.
"One hundred and eight officials were brought to the courts for acts of torture or cruel, inhuman and degrading treatment committed in the exercise of their functions and they were convicted," he said, adding armed forces were being educated on complying with international treaty obligations to prevent crimes against humanity.
In the West African country's far north, the military has for years been fighting terrorist group Boko Haram as well as the separatists.
"These elements have cut off heads, arms and feet. These are images we can see on the internet. These are atrocious images. No state can tolerate this state of affairs," Mr Mbello Mbello said.
Earlier this week, British Minister of State for Africa Harriett Baldwin told parliament she visited Cameroon and the prime minister in February to express her concerns.
"It is a serious situation. There is violence from all sides in Cameroon and we are extremely concerned about the situation," she said.
"We are encouraging not only the government there but all Cameroonians to participate in a process of inclusive dialogue. It is an election year and the election must take place without people resorting to violence."
At least eight – possibly up to 11 – Cameroonians have not returned home from the Commonwealth Games on the Gold Coast in April and are expected to seek protection after their visas expired on Wednesday.
"It's really helpful to see countries like Australia criticising the human rights situation in countries such as Cameroon," said Sarah Dale, principal lawyer at the Refugee Advice and Casework Service (RACS) in Sydney, which has been in contact with a number of the games athletes and officials.
"These are the exact kinds of reports that we use to demonstrate a person's well-founded fear of persecution."
"I was excited when I heard that Australia is interested," said Gana Tetu, a southern Cameroon community leader in Canberra.
"The situation in southern Cameroon is horrific, there's a lot of killing going on, everyday people are dying. Southern Cameroonians just want to restore their state."
Mr Tetu said southern Cameroons refused to take part in the Commonwealth Games in protest at French Cameroonian athletes being eligible, saying only those from the former British colony should be allowed.
He opposes any French-speaking Cameroonian athletes or officials being given protection visas.
"If they're granted those protection visas, then I'm pretty sure southern Cameroons in Australia will go on the street and protest," he said.
The federal government's Smartraveller website warns anyone travelling to Cameroon to "exercise a high degree of caution" and in the far north "we advise against all travel there due to the very high risk".
About two dozen games athletes and officials including from Rwanda, Uganda, Ghana and Sierra Leone are still thought to be in Australia.
Home Affairs in a statement said it "will not be commenting on individual cases" and it has "stood up a dedicated operation to ensure those that should depart Australia do so."
Source: www.sbs.com.au