2, November 2016
President Paul BIYA received the new Commander of the United States Africa Command (AFRICOM), General Thomas D. WALDHAUSER at the Unity Palace on Wednesday 2 November 2016 for discussions on a wide range of security matters of concern to the two countries.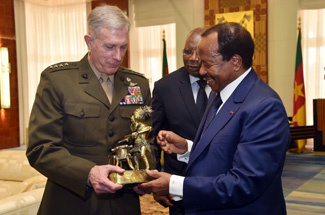 It was a get to know each other audience with the new Africom Commander, U.S. Marine Corps General Thomas D. WALDHAUSER, who assumed duties in July 2016. This was in company of the U.S. Ambassador to Cameroon, Michael Stephen HOZA.
Speaking to the press after the audience, General WALDHAUSER underlined the important role Cameroon plays in the security of Africa. He said they reviewed a wide range of security issues especially the way forward in the cooperation between the two countries in military matters.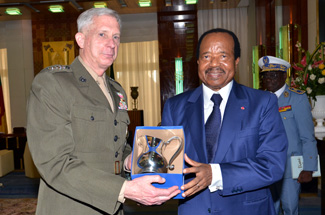 Meanwhile, Ambassador Michael Stephen HOZA, revealed some of the matters of utmost concern, such as the fight against terrorism, the ongoing conflict in the Central African Republic and maritime security in the Gulf of Guinea. The Americans will continue to stand by Cameroon, especially with the training of Cameroonian military staff and the supply of high end equipment.
President Paul BIYA and General WALDHAUSER exchanged souvenir gifts during the audience, a mark of the intimate friendship that underlies cooperation ties between Cameroon and the United States of America.