11, December 2017
A politician was hurt by an object thrown by another MP during chaotic scenes in Cameroon's parliament in which vuvuzela horns were blown to drown out a budget debate, sources said on Saturday.
It comes against a backdrop of unrest in the country's English-speaking regions which led to independence protests that turned fatal in October and the detention this week of US literary professor Patrice Nganang for criticising the government's handling of the issue.
Government spokesman Issa Tchiroma said Nganang's arrest on Wednesday in Douala followed the posting on Facebook of a death threat against the head of state.
He repeated the pledge of President Paul Biya, who has been in charge of the francophone nation since 1982, to rid the country of what he calls secessionists among the English-speaking minority, which has complained about discrimination.
Resentment among anglophones has fed a spiral of political demands and also a government crackdown, leading to calls for secession.
In Saturday's incident, Hermine Patricia Ndam Njoya of the opposition Democratic Union of Cameroon "hurled into the air" parts of her desk to protest against the assembly speaker's refusal to allow her party's legislators to speak, the party's communications officer Amadou Mongwat claimed.
Mongwat said the object landed on the head of a member of the ruling Cameroon People's Democratic Movement, causing a head injury. It is not clear from video of the alleged incident where the object lands or what is thrown. Other reports have suggested a shoe was hurled.
The speaker ended the session with the announcement that the budget had been adopted without further discussion.
Last month four Cameroonian soldiers were killed by suspected separatists in the south-west of the country, while international monitors say at least 20 people have been killed since late September. The president of the senate has since promised to have a commission investigate the anglophone issue.
The detained writer Nganang, who has a home in New Jersey and has been teaching in the US since 2000, was said to be in good spirits and has met a lawyer, a colleague at New York's Stony Brook University said.
Karin Deutsch Karlekar at advocacy group PEN America said: "Detaining an important independent voice like Patrice Nganang, who has used his writing to investigate the consequences of violence, is indicative of a movement by the government to silence all political criticism and dismantle the right to free expression."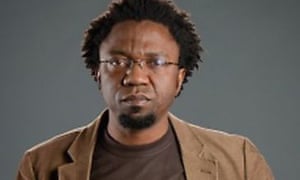 Farhan Haq, a spokesman for the UN secretary general, António Guterres, said at a briefing on Thursday he hoped Nganang was safe but did not say whether the UN was aware of the detention or whether it would intervene. "We certainly hope and expect that this particular person will be found, and we're hopeful that nothing untoward has happened," he said.
Nganang has published 12 books, scholarly essays, novels and books of poetry.
Culled from The Guardian